what is geotextile?
Geotextile is a textile screening material, usually made of polymers such as polyester, polypropylene, polyethylene, etc. It has excellent filtration, isolation, enhancement and protection functions, and is widely used in civil engineering, water conservancy engineering, environmental protection engineering and traffic engineering and other fields.
There are two main types of Geotextile: nonwovens and needlepunched nonwovens. The difference between them is that the non-woven fabric bonds the fibers chemically or physically, while the needle-punched non-woven fabric makes it tightly connected by needle-punching the fiber web. Both types of Geotextile have very good permeability and filtration properties and can be used as filter layers, barrier layers and reinforcement layers.
Geotextile is an industrially processed textile, and its various indicators need to be inspected and controlled during the production process. During the construction process, it needs to be laid, covered, welded and other operations to play its greatest role.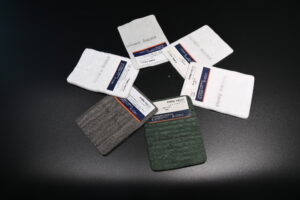 4 ways to judge the quality of geotextiles
Observe the appearance: the surface of the high-quality geotextile is smooth, without obvious defects and impurities, the color is uniform, and the surface of the geotextile has a certain degree of gloss. If there are wrinkles or quality problems on the surface of the geotextile, it may affect its performance.
Pull Test: A pull test can evaluate the strength and durability of the geotextile. The tensile test can be carried out in the laboratory environment. In principle, the test should meet the relevant standards. If the test result reaches the expected strength or breaking strength, it can be considered that the quality of the geotextile is not good.
Thermal stability test: Since the geotextile is exposed to the natural environment in the project and withstands continuous and long-term exposure and weathering, it needs to have a certain thermal stability. The thermal stability test can be carried out in the laboratory environment. If the test result reaches the expected thermal stability, it can be considered that the quality of the geotextile is good.
Check the manufacturer/brand: High-quality geotextiles usually come from well-known brands that have well-established production systems and strict processes that can guarantee the quality and performance of the geotextiles.
Finally, it should be noted that when choosing a geotextile, you should first consider its required function and application environment, and then choose a suitable specification and quality geotextile according to the actual situation.
Geotextiles can be divided into the following categories?
Anti-seepage geotextile: mainly used for anti-seepage in water conservancy projects, reinforcement of dams, anti-pollution and anti-seepage of landfills. Impermeable geotextiles are usually made of materials such as polyester, polypropylene or polyethylene, which have excellent impermeability and chemical resistance.
Isolation geotextile: mainly used for isolation layer, stable layer, transition layer and drainage layer in infrastructure projects such as roadbeds, railways, and airports. Commonly used materials are polypropylene and polyester, etc., which have properties such as tensile strength and shear strength.
Reinforced geotextiles: mainly used for reinforcement, reinforcement and distributed reinforcement in civil engineering such as roadbeds, bridges, and tunnels. Reinforced geotextiles are usually made of materials such as high-strength polyester or glass fiber, and have properties such as high strength and high stiffness.
Geogrid: It is mainly used in soil reinforcement, river channel management, earth-rock slope surface protection, etc. in civil engineering. Geogrids are divided into square grids and hexagonal grids and other forms, generally made of polyethylene, polypropylene and other materials, with good tensile strength, stiffness and corrosion resistance.
about us
Shandong Tianhai is a well-known chemical company in China, headquartered in Zhangdian District, Zibo City, Shandong Province. Founded in 1994, the company is mainly engaged in the R&D, production and sales of hydrofluoric acid, fluoride, polyol, silicone and other products. The company has successively passed ISO9001 quality management system, ISO14001 environmental management system and OHSAS18001 occupational health and safety management system certification, and won honors such as "China Excellent Private Enterprise", "Shandong Province Famous Brand Product" and "Shandong Province Innovative Enterprise".
Shandong Tianhai's products are widely used in metallurgy, petrochemical, electronics, glass and other industries, as well as in agriculture, medicine, and daily chemical fields. Among them, hydrofluoric acid, fluoride, polyols and other products have a relatively high market share and good reputation in the domestic market. Shandong Tianhai Company has always adhered to scientific and technological innovation, continuously improved product quality and production technology level, and is committed to providing customers with more high-quality and reliable chemical products and services.